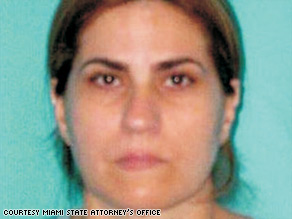 Eighteen and pregnant, Sycloria Williams went to an abortion clinic outside Miami and paid $1,200 for Dr. Pierre Jean-Jacque Renelique to terminate her 23-week pregnancy.
Three days later, she sat in a reclining chair, medicated to dilate her cervix and otherwise get her ready for the procedure.

Only Renelique didn't arrive in time. According to Williams and the Florida Department of Health, she went into labor and delivered a live baby girl. Sycloria watched the baby "moving and making noises for approximately five minutes," according to an affidavit in support of Gonzalez's arrest warrant.


What Williams and the Health Department say happened next has shocked people on both sides of the abortion debate: One of the clinic's owners, who has no medical license, Belkis Gonzalez, entered the room, used a pair of shears to cut the baby's umbilical cord, then "scooped up the baby and placed the live baby, placenta and afterbirth in a red plastic biohazard bag, which she sealed, and then threw bag and the baby in a trash can."


Police recovered the decomposing remains in a cardboard box a week later after getting anonymous tips.
After the outcry of many citizens throughout our country, authorities in Florida have finally filed charges against Belkis Gonzalez. She faces a second-degree felony count of unlicensed practice of a health care profession resulting in serious bodily injury and a third-degree felony count of tampering with or fabricating physical evidence, authorities said Tuesday.
She was arrested and taken into custody, prosecutors said. If convicted, she faces a minimum sentence of a year in jail.
HOW CAN THIS NOT BE MURDER?!?!?

References:
Washington Times - Abortion doctor loses state license
CNN - Charges Filed Against Clinic Co-Owner in Abortion Case